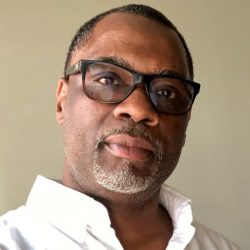 "You sense what people call passion" when you are around Clayton Singleton. This Virginia resident's blend of verbal and visual art inspires, motivates and educates. In addition to being a member of the Hampton Roads National Poetry Slam Team, he has been noted in many publications ranging from The Virginian Pilot to Time magazine.   

Clayton has created public art, won numerous awards, and produced several solo and group shows including Walking on Paper at ArtWorks gallery. His recent works include: ART INSTALLATION PERFORMANCE at SONO gallery and LOOK BEYOND at d'ART Center @The Selden, which benefited The Autism Society of Tidewater. The Virginia Opera commissioned Clayton to design sets for Porgy and Bess and Freedom's Journey. Clayton has served as a member of Norfolk's All-City Teaching Team, The d'ART Center Board of Directors and Norfolk Arts Commission. 
In addition to helping rewrite Norfolk's art curriculum, he produced solo exhibitions DEFINING BEAUTY at The Sandler Center for the Performing Arts, CULTURAL SHIFT at The James Wise Gallery at Norfolk State University, LOVE OF THE GAME at The Virginia Sports Hall of Fame and Museum and VALEDICTORIAN which consists of paintings, mixed media and video; an extension of the group show Looking Both Ways: Roots in African American Art at the Peninsula Fine Arts Center. Moreover, Singleton exhibited at the Virginia Museum of Contemporary Art, The Chrysler Museum of Art and has co-curated regional group exhibitions such as NOW: African-American Artists in Tidewater. Most recently he produced a solo exhibition FUTURE LOVE PARADISE which toured for two years beginning at Downing-Gross Cultural Arts Center and ended at his alma mater Virginia Wesleyan University.
Clayton Singleton's collection at Stravitz Art Gallery