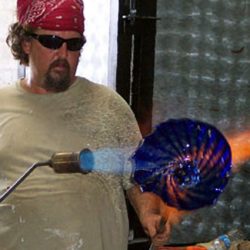 Born in Chillicothe, Ohio, Rich Fizer received his BFA in Glass from Georgia Southwestern State University and his MFS in Glass and Fine Art at Bowling Green State University. Fizer maintains a Hot Glass Studio in southwest Florida that produces his art glass that is collected around the world.
His unique combination of vibrant colors and large organic shapes has become the trademark of this contemporary artist's work. The molten glass becomes controlled chaos at the hands of this master glassblower.
Blowing glass requires an artist with a rare combination of physical strength and intense energy who is able to think fast and create in an extremely hot environment. Fizer stays on the cutting edge of the American glass movement, continuously challenging himself while experimenting with his "larger than life" organic style of working with a hot medium.