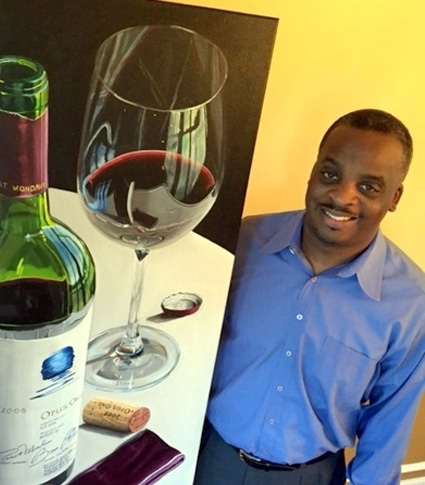 Brien Cole, wine artist par excellence, has come to Virginia Beach and he has come to conquer!! When the Stravitz Galleries first encountered Brien's incredibly detailed, almost 3-dimensional work, we mistook it for photography. Now that his pieces are on display in our gallery, we still can't quite believe his meticulous renderings of wine at table or tasting, are oil, watercolor, and charcoal. They are, though, and we are thrilled to be introducing him to the area.
The artistic movement known as Realism began in France in the 1850s as a rejection of the previous period of Romanticism which had dominated the arts since the late 18th century. Precise, detailed and accurate representations replaced more idealistic, stylized ones; this genre has remained in vogue and includes Photorealism, which is a representation created specifically from a photograph. The attempt to represent subject matter truthfully, without artificiality and avoiding artistic conventions or supernatural elements is a hallmark of this style of art.
The skill and care that goes into Brien's faithful representations includes wooden tables that could almost be touched because the grain is so clear and glasses that reflect their surroundings and vividly highlight the etching from every side of the drinking vessel. The labels on each bottle and the corks beside them are so incredibly articulated that the viewer is drawn into the setting in a way that almost makes the smell of great wine float in the air.
A member of the Oil Painters of America and the International Guild of Realism, Brien has had his work displayed at the State Capitol building in Annapolis as well as the tasting rooms at Barboursville, Perigeaux, and Elk Run Vineyards. It is an honor and a privilege to have him hanging here at 1217 Laskin Road, Virginia Beach, VA. Please come by to see these surprisingly real images and to learn more about Brien Cole, visit his website at www.briencole.com.
Brien Cole's collection at Stravitz Art Gallery