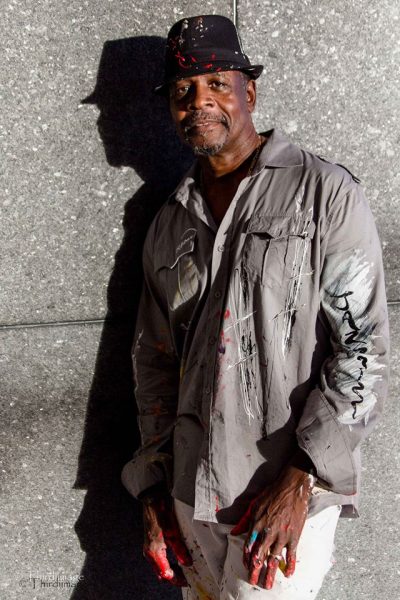 After retiring from the military, Gerome Meminger Sr. pursued a hidden artistic passion for painting becoming an artist, poet, and author. Born in Hampton, VA, Gerome's love of music and painting has brought him to a place in his life that allows him to interpret music through a paintbrush.
Gerome expresses himself on canvas in two different ways. In his studio, he is the fine artist, with a colorful yet more detailed and calculated painting in mind. On stage, he transforms himself into a painting maestro and paints what he sees and feels with rhythmic bold colorful brush strokes that  become long and gentle depending on the music. Keeping with the tempo of the music, Gerome's painting becomes a performance in itself.
A self-taught artist, Gerome's preferred medium is a high-quality acrylic. His style of painting is abstract and impressionist as he calls himself an "Impressionist Music Fusion Painter." His art has been displayed in museums and galleries and is collected throughout the United States and Europe.
Gerome Meminger's collection at Stravitz Art Gallery