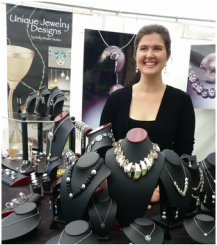 Molly Strader was raised in Toledo, Ohio. She obtained her Bachelor of Fine Arts degree with a major in metalsmithing and a minor in ceramics in May 2004. Ms. Strader graduated magna cum laude with departmental honors from the University of Toledo Department of Art. She completed a small business Management certificate from Florida Keys Community College in 2005 and her Masters of Fine Art in metalsmithing and jewelry design from East Carolina University in 2010.
Growing up Ms. Strader was surrounded by art; her mother was a painter and interested in cultural arts of Native Americans as well as other native and ancient cultures. Her father was an engineer and owned a travel agency. From a very young age, family trips abroad heightened an interest in other cultures. For two summers she traveled to Bali, Indonesia to study Balinese culture, dance and work under a master wood carver. That trip and subsequent studies set Strader on a lifelong journey concentrating on her artwork and developing her views of simplicity and oneness with nature within the art. Creating artwork was an essential part of Strader's youth and still is today, along with her continued interest in the world's cultures.
She has taught metalsmithing at Florida Keys Community College, Pitt Community College, East Carolina University as well as private lessons out of her studio. Strader continues to design and create; her work has won many high awards and has been shown in museums, art shows and galleries nationally and internationally.
Molly Strader collection at Stravitz Art Gallery