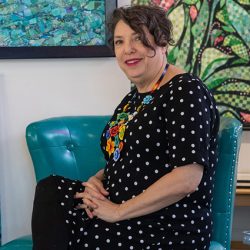 Sandhi Schimmel Gold's work is a combination of techniques including Painting, Mosaic, Papier Collé and Collage. Every painting is an original that she has created. Every piece of paper is chosen purposely, hand-cut and hand-applied; a junction of paint and paper. Every work is made by recycling junk mail, postcards and other paper ephemera that may have ended up in a landfill. Every work is inspired by something in Sandhi's life, a dream, an epic poem, a legend, a belief, but mostly, her desire to create a beautiful image to share.
The meaning of the name:
Sandhi    Sanskrit: संधि means "junction" or "combination."
Schimmel     German/Dutch: means a white or grey horse, or a gray haired person. 
Gold    Latin: 'aurum' means shining dawn. 'Golden' means doing right, "stay gold" means remaining true to yourself. 
Sandhi has never NOT been an artist. But, not in the prescribed way. Although she has studied, practiced, perfected, played, dabbled, experimented — all of it has been outside the "regular" art world. Her work is a combination of long held interests. Sandhi doesn't make art the way others do. Her technique is self-taught. And it's been copied [a lot] since she started creating paper mosaic portraits from junk mail over 20 years ago. 
Little Sandhi played the piano [perfect pitch discovered at 4], took ballet, made puppets and learned to paint with oils. And sewed clothes for Barbie. Both of her parents were extremely talented artists in their own rights.
Slightly older Sandhi ditched the classics to play rock music. Learned how to do needlework. Switched to drawing shoes and dresses. Her drugs of choice were art galleries and museums. 
Bigger Sandhi went to college for oceanography but degreed in psychology. Because she discovered she's gifted with Eidetic Imagery, Sandhi was a "guinea pig" [studied] and a paper outlining her case was presented at the APA by Dr. Michael Siegel. And acted in plays and painted [acrylics].
After college, her MFA career careened into a ditch. Sandhi could not select a discipline. She dabbled in Pottery, Textile Design, Jewelry, Metal Work, anything but Painting.
As an adult, Sandhi had many careers. Portrait Painter, Designer of Needlepoint. Designer of T-shirts. Maker of Jewelry, Visual Merchandiser, Set Designer, Florist, Marketing Director, Creative Director, Communications, Chief Information Officer…and Artist. 
Her mind and imagination are very active. She researches. She continues to learn. She talks too much, but not when she is creating. Thoughts, ideas, memories, dreams and concepts fire synapses in her brain…which end up on canvas.
Sandhi selects images that speak to her from their eyes. She reacts to their imaginary being. She draws, paints and covers the painting in paper. Sandhi has been doing this so long, she doesn't have to think about it, she's in that flow. As she works, she improvises. She's not attached to any outcome, therefore, she's free to change anything while she works. Sandhi is not "finished" until she's finished. She is usually deeply in love with her work, and emotionally connected. If she doesn't like something, she will rip it apart and change it. 
Some are loose, some are tightly controlled. There is texture, structure, color. Everything she creates reflects a time and place in her life. Sandhi has lived in many states, has traveled extensively in a physical and in a spiritual sense.
The women or men Sandhi "paints" are a cast of characters in a movie that will never be made. They all have a back-story. And theme music. The abstracts are sparked by a time or place, or a dream. She constantly experiments and grows. She is not tied to any particular thing. Whether she paints or braids old shirts or glues old jewelry on a frame, or strings beads… it's all the same to her. But nothing is the same. Sandhi doesn't repeat herself. 
​​Sandhi Describes Her Process
My first step is cutting paper. I have paper in many bins:
Raw materials — all that junk mail, all those calendars, greeting cards, advertisements, post cards, etc. I'll cut this paper into ​chunks based on color
Color bins — once I choose a color scheme, I dig through to find my key colors. I pull those "chunks" and cut them either into strips 
Strip bins — I put the colors I want to use aside, and then dig into the elongated trays 
Drawing —  I mostly work on stretched canvas.  I draw fast and paint faster. I can make changes later! 
The Paper — I start with one color, cut a bunch of strips into squares [using the guillotine]  I start gluing in place. I hand-cut every single piece to make sure they create a junction — fit exactly next to each other. I might cut a piece over and over until it's exactly right. These are tiny slivers. 
Coating — After I am sure I am done, no more touching, the lacquer happens. A simple choice between matte or gloss. I use non-toxic, water-based lacquers that will seal the piece and keep it safe for years to come.
I'm done — or am I?
Sometimes I choose other materials to mix in — glitter, crackle, color, tints, etc.  Sometimes I will embellish the surface even more — with yarn, jewels, feathers, rhinestones, beads, bits, baubles, photographs or other items that reflect the meaning of the piece.
​I am sharing my soul with you. I am pouring skill, experience, emotion and time into an image; onto a canvas.​ Each piece means something to me. 
The paper I use could be garbage, filling landfills. Instead, I take this product and transform it into something of merit — a piece of fine art that is a permanent asset.
"Media is the Message. Media is the Medium"
An artist's job is to challenge, provoke & immortalize the age they live in. This is the age of information overload. It enters through our mailboxes – outside your door, or on your electronic devices. We're never far from another come one, another pitch, another buzz word, another overwrought image. I've developed a technique that not only reflects that assault, but is created expressly from the very advertisements and messages received.
Sandhi Schimmel Gold's collection at Stravitz Art Gallery