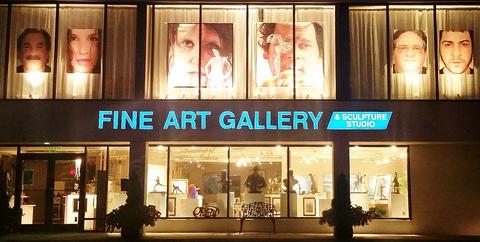 Brothers with unique artistic styles and abilities, Todd and Eric Lindbergh are a force in the mural industry. With over twenty years of experience conceiving, designing, and executing over one thousand murals, they continue to surprise their clients with exciting and innovative ideas. Creating murals for both public and private enterprises, Todd and Eric pride themselves most on their tribute murals painted for the military, police, and firefighters.
Lindbergh and his brother have painted some of Virginia Beach's most popular images.  Eric Lindbergh said, "It's different.  It's always something new.  I've done close to 2,000 murals and it's always something different." 
We are happy to have work displayed in our front windows at our Stravitz Laskin Road Gallery for the next two weeks.  Please drop in to see this work in person! (1217 Laskin Road, Virginia Beach, VA 23451).  The brothers also work on commission and are open to hear from anyone with ideas for the upcoming gift giving season!  Check out their website here.
OTHER MURALS by the Brothers….