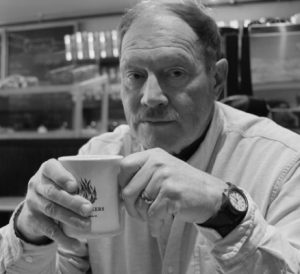 Peter Stolvoort began drawing and painting at an early age, using paints and brushes his father brought home as a faux painter in The Netherlands. When he was nine, his family immigrated to American on board the SS Maasdam. Imprinted on Peter's Flow paintings are his memories and emotions of leaving his homeland on this transatlantic crossing.
Peter is a graduate of the Hussian School of Art in Philadelphia where he studied painting, printmaking and design. He also studied painting at the Pennsylvania Academy of Fine Arts. After three decades as an award-winning designer of commercial and media products, Peter returned to painting full time. At first glimpse, viewers compare his paintings to the works of Jackson Pollock and Mark Tobey. There are similarities, but the viewer soon perceives a unique order and theme to Peter's works. Using fluid acrylic paints and added mediums, he has developed a repertoire of painting techniques that achieve his signature sculptural finish.
Peter's works are housed in many private collections throughout North America and Europe. He now lives and works in Buck's County, Pennsylvania.
Peter Stolvoort's collection at Stravitz Art Gallery