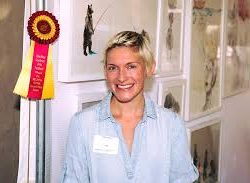 Artist Amanda Outcalt is much like the rest of us. She thinks, plans, dreams, and worries about things to the point that they sometimes fill all the corners of her mind. They can be small, nagging little issues, like the division of labor within her home, or they can be tremendously important like who she is as a human being and the direction of her life. Eventually, these concerns, big and small, find their way out of her head and into her art.
The subjects of her paintings stems from her personal history, yet they hold appeal for us all through their universal themes and playful approach. They address the human condition without becoming dark or maudlin.  Beyond their eloquent gaiety, Outcalt's art fairly thrums with the message to appreciate the gift of life. They remind us to enjoy the many challenges that we tackle in life and the curious but delicious ways that they take form in our heads.
Amanda Outcalt lives and works in Norfolk, VA as an elementary art teacher for Norfolk Public Schools. She is a graduate from East Carolina University with a BFA in Painting and Metal Design. She has shown her work in many local and national exhibitions. She is the artist who created MOCA's Boardwalk Art Show poster in 2010. In addition to her paintings and drawings, Outcalt is a metal smith whose jewelry was also featured in the Lark Book '500 Enameled Objects'.  Currently, Amanda is producing her paintings and metalwork in her studio in Norfolk, VA.
Amanda Outcalt's collection at the Stravitz Gallery