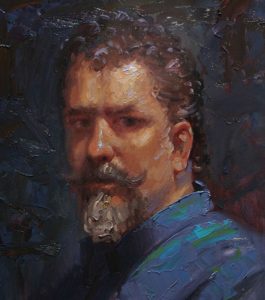 An impressionistic oil painter based near Richmond, Virginia, Andre Lucero was trained in a traditional academic setting but in recent years has combined his love for the outdoors with his art. Completing more than 100 plein air paintings a year, his work includes landscapes and figures and still life painted from life.
Born in Tehran, Iran, Andre's US military family returned to the states soon after his birth, settling in a Washington, DC suburb. Early on, Andre's artistic nature was encouraged by his parents who were both patrons of the arts. He showed early promise, and in high school Andre's award-winning artwork was displayed two consecutive years at D.C.'s Corcoran Museum of Art. In college, Andre continued his study of art, ultimately taking his background in fine art and applying it to the study of illustration at Virginia Commonwealth University, where he was awarded the first Annual Mallory Callan Memorial Scholarship for Illustration. In each of his college years, Andre's work was prominently displayed in juried shows for purchase.
After earning a BFA cum laude, Andre worked for more than a decade as a freelance illustrator. During that time, his illustrations appeared in numerous publications including The New York Times, Playboy, U.S. News & World Report and The Washington Times. While his illustration work was honored with the 1995 Virginia Press Association Best of show Awards and the 1994 Award of Excellence from The Art Directors' Club of metropolitan Washington, DC, Andre decided to leave the field of illustration and devote his attention full-time to his first love, painting.
Andre Lucero lives and maintains a studio in Richmond, Virginia. He is an associate member of the Oil Painters Association and a member of Mid Atlantic Plein Air Painters Association and the Jack Woodson Sketch Club of Richmond, VA.
Andre Lucero's collection at the Stravitz Gallery