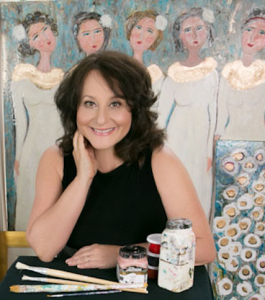 The Stravitz Gallery is excited to announce the arrival of new paintings by Richmond artist, Holly Markhoff. We love Holly's joyful, spontaneous work and eagerly await each unfolding manifestation of her talents.
Holly Markhoff is a contemporary, mixed media artist born in New York City. She grew up outside of Washington, D.C. and currently lives in Richmond with her husband, two children and two dogs. As Holly does her work, she moves the canvases around her house and studio to "live with" as they are being created. From easel to counter to chairs by windows, she soaks in the balance, design, color and movement from various perspectives until each hue, line or texture reveals its place and purpose.
Holly's new paintings are often simply directed by the materials used. Her ladies, inspired by Modigliani, are often bedazzled with bits of lace, rhinestone jewelry and brocaded fabrics. The angularity of the forms and the serenity in each facial expression is highlighted by dazzling colors and textures. Who wouldn't want a group of magnificent women looking out from their wall with love and acceptance, the peaceful mistresses of all they survey? One such piece has just crossed our threshold!! "Three Sisters and a Golden Egg," measuring 24" x 30" depicts three lovely women in ivory and lavender shifts with heavily encrusted collars. A golden egg in one sister's hand and a golden bird on one sister's shoulder underscore the circular nature of life and love.
Also new are several departures for Holly. "Taking Flight" is a smaller (15" x 20") oil featuring a gilded woman in the midst of a swirl of emotional color. She is self-contained and complete: unafraid of the chaotic energy around her. She is, in fact, a conduit for this power and could easily leap beyond the confines of gravity, leaving this world behind forever. "Bursting Through Blue" and "Wildflowers" represent looser, more liberated versions of Holly's much loved, highly collectible florals.
Drop by sometime soon and help Holly Markhoff and the Stravitz Gallery spread the joy!!