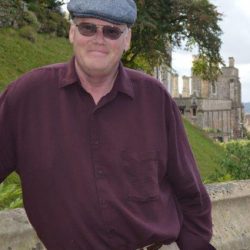 Aaron Bowles is an American contemporary painter. His figurative work has a modernist flavor, and features dreams and mythology, while his landscapes and marine paintings are handled with an expressive touch. He works in a painterly style that features compositionally intensive abstraction with a colorist's aesthetic. The work is composed in layers, of sometimes unexpected color, with a direct, expressionist stroke, based on emotionally charged scenes that contain light, drama, and spirit.
Biography
Born in Charlottesville, Aaron is a lifelong Virginian, where he went to college to study painting and design, and continues to live today. After many years as a digital creative director and freelance illustrator, which he continues, Aaron began to pursue his dream of becoming a painter.
Aaron studied painting at East Carolina University, and holds a bachelors degree from Virginia Commonwealth University where he studied communication arts, painting, and English. He continued his art education at the graduate level by studying painting at George Mason University. Aaron's illustrations have been presented in the pages of Time, Newsweek, The Washington Post, The Wall Street Journal and many others. A former assistant professor of design, he taught art at George Mason University and Northern Virginia Community College. Aaron is an enthusiastic teacher and is actively participating in activities that allow him to demonstrate art and share his broad knowledge of painting and drawing. He exhibits nationally and is in numerous institutional and private collections.
Aaron has had a varied and interesting life. He has been a dishwasher in a greasy spoon, a cook in a pizza restaurant, a waiter in the most elegant restaurant in Richmond, a graphic designer, an art director, a car salesman, a financial advisor, a digital advertising creative director, and now a fine art painter. He has written a mystery novel, and traveled on business to Saudi Arabia where he designed museum exhibits. He has directed films shot from helicopters. He has created digital animations for Fortune 500 clients. He has shot video in the Cotswolds, England and traveled to India, Rome, Florence, and Paris. And he has drunk a pint or two of good British beer in the Sherlock Holmes Society pub.
Inspiration
My goal is to create artwork that is moving, that evokes mystery and wonder. I want the people who live with my work to regard a painting as a touchstone of their soul. Hopefully the painting will give sustenance and warmth.
We live in a world filled with visual drama in the form of seismic changes, within a broad historical and psychological heritage. I would like the viewers of my art to sense this drama, for the paintings to stir the emotions, or calm the senses. My work is a pursuit of balance between the tangible world that surrounds us and the spiritualism that dwells within each of us. These feelings find expression to remind us of our individual connection to our collective consciousness.
I come across inspiration in my daily life, reacting to myriad cultural and technical influences, my dreams, the cultural zeitgeist, the environment, and something will strike me as a particularly good idea that evokes some poetry…I react to that and try to capture it. I take a picture of it, or sketch the essentials, or work in Photoshop. Whatever the idea is, it is fleeting. Painting that moment, that idea, will help to reinforce a feeling, translating that impression into a permanent work of art. I strive for drama and interesting conflicts, some expressive statement, that may involve dreams and psychological vibrancy and motion, or serenity and a sense of peace, or wonder and awe…some set of feelings that help explain the world.
At the center of my work are the ideas within my painting. I believe that ideas draped in beauty have an inherent attraction, that the messages can be digested and understood if they are aesthetically aligned with one's spirit. My highest aim is bringing aesthetic insight, honesty, and delight to the people who live with my work and share my spiritual and intellectual world on a daily basis.
Process
I generally make thumbnail and color studies to figure out the placement of figures or scenic elements. Once I have the idea or scene worked out in detail, I begin the painting of a piece by thinking more about the color and the composition. They need to be in harmony to express the particular feeling I want to capture. When I work with paint, there is a physical interaction unlike other media; a combination of visual and color and the plasticity of the paint itself. I know a piece is done when there is nothing more to say. Each stroke is hopefully correct, in it's place…that is, it fits with the other aspects of the painting (light and dark, warm and cool, at rest or in motion).
Starting with either canvas or panels, I gesso the surface in three coats, sand it, then tone it all over in acrylic with a complementary color to the main color of the painting, usually a tinted magenta or orange. I consider the color choices carefully and make three or four small color studies. Then I draw directly on the canvas in thin paint, and then proceed to paint in the underlayers in acrylic. While that is drying I will mix the oil colors, mix a lot of paint and just lay the colors down quickly, drawing with the paint brush all the while. It is a daring way to paint- one is always on the edge, preserving the underlayers to allow that sparkle of previous layers to show through, but laying on the paint in a confident, bold manner. It takes concentration and courage to just do it all in a rush, but the results are what I want, and sometimes it simply fails or I go too far. Then it is time to learn from that and start another painting.
Fortunately I have lately discovered that the paintings can take a bit of overworking and that most of the time more paint is better. And I have become interested in scraping the paint, or using the knife to make texture, making scraffito marks. The results are a little richer and more engaging.
Aaron Bowles' collection at Stravitz Art Gallery