"I am a child of the south. Hot, humid summers with frigid air conditioning, iced tea all year around (sweet, if your taste runs that way), and children brought up to be polite to their elders. Born in Virginia, raised in North Carolina, resident of Virginia all of my adult life.
The south definitely influences my painting. L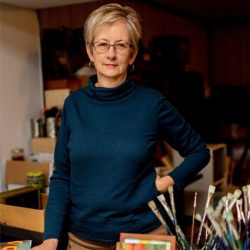 andscapes of lonesome farms, wide rivers and dark creeks. The marshes, the mountains, the rolling hills in-between. Blue skies, ever-changing clouds. It's a beautiful land, settled first by Native Americans, then European immigrants since time immemorial. The peacefulness, the isolation, the sense of home–I work to capture it all.
A graduate from Virginia Commonwealth University with a BFA in Painting and Printmaking, I initially worked in graphic design and, later, marketing. I had been looking for an opportunity to get back to creating art when a highly regarded oil pastel class had an opening. I grabbed the chance. That led to working in oil pastels for several years. That, in turn, led to a renewed interest in oil painting, which has grown into a passion that only grows stronger by the day."
View Bart Levy's collection at Stravitz Art Gallery.