Maurice Spector was born in 1945 in Bucks County, PA where his family operated a working farm. The farm's landscape and the creatures that roamed it made an indelible impression on him and later his art.
Upon visiting the artist's residence on the Eastern Shore of Virginia you get a sense of being, comfort, whimsey, and intrigue. 300 year old Sycamore trees and a life size belted galloway bull painted on the side of the barn greet you. The property is adorned with art made by himself, made by his friends, boat relics and whale bones that were found on the beach.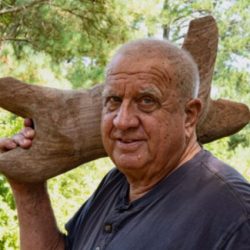 His art is a reflection of his personality and his view of life. The creations draw on the happenings, irony, conflict, and nature experienced in everyday life. The result is original art that is genuine, from the heart, and has a personality that is as unique as the creator.
The artist was drafted during the Vietnam war and was sent to Germany where he was exposed to art and architecture unlike anything that he had experienced in the United States. The time spent in Germany was very formative in his path to becoming an artist.
Maurice didn't accept himself as an artist until he entered his 40s. Initially, the camera was used as an outlet for expression. Early on, he worked behind the camera for major clients such as AT&T and Audubon Magazine. When he stepped away from the confines of commercial photography into the outdoors he found greater satisfaction. Passion for photography evolved into furniture making and ultimately sculpting and painting which is where he now expresses himself.
Artists that Maurice draws inspiration from include Leonard Baskin, Paul Klee, Henry Moore, Marino Marini, Picasso's quick sketches, and Rodin. When he looks at the hands in Rodin's sculptures he is in awe of the power present in the sculpted hands. What attracts him to other artists is the way they think, which manifests itself in the way they express themself.
He says he does not know here his inspiration comes from except perhaps from his heart. One of his favorite sources for inspiration are the early morning dreams that run through his subconscious. Spirits are an important inspiration, they do not exist except in the mind so creativity flows when drawing them.
Everything comes together for him in Pungoteague. Many of his early inspirations, specifically animals are present in his everyday life. His understanding of their physicality and movement is evident in his works.
Find Maurice's work at the Stravitz Art Gallery here.