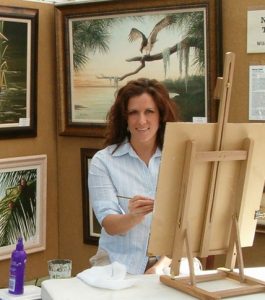 Self-taught as an artist, Nancy Tome left the public relations field to work as a freelance illustrator for the Los Angeles Zoo. As she tells it, she actually went to work at the zoo because of a love of animals and a desire to pursue the field of zoology. A member of the zoo's graphic design team happened to see some of her doodles and suggested that she try her hand at decorating LA Zoo signage with her lovingly drawn animals. The rest is history. Her work as a zookeeper, studies of animal behavior and anatomy, and extensive travels all over the country working on various wildlife research projects have perfectly come together to make her a superb wildlife artist. It makes us happy to see her naturally beautiful, unbelievably realistic work gracing our gallery walls.
Working mainly with acrylics, Nancy uses bold colors combined with intense detail to depict everyday behaviors displayed by animals in their natural environment. The images portrayed depict a "moment in time" of that animal's daily life.
Using collaborative research obtained from travel, zoos and private collections, Nancy combines her prodigious knowledge and understanding of an animal and its environment into a realistic and emotional scene.
Many of her award-winning paintings are hanging in private collections throughout the world. She was a board member for Friends of Florida Panther Wildlife Natural Refuge and has been a judge for the Florida and Federal Junior Duck Stamp competitions. To take a walk on the wild side with Nancy Tome (or even if you're simply a nature lover,) drop by the gallery at 1217 Laskin Road, Virginia Beach, VA. For more about Nancy, check out her website at www.nancytome.com.
Nancy Tome's collection at Stravitz Art Gallery